The latest entrant to the Open source RPA space is OpenBots – a Low-code automation platform. It has some resemblance to the previous versions of the popular RPA tool Automation Anywhere.
Let us check out this automation suite, their business model, technologies used and key resources.
Before we dive in if you are more of an audio person, here is a podcast where co-founder Ashish Nangla discusses the history, product suite, and the future of open-source RPA.
With that out of the way, let's start by looking at the product suite.
OpenBots RPA
Like Robocorp, the OpenBots team also likes to make Intelligent Automation capabilities widely available. They believe that the value of Automation comes from building products and services on top of an open and free core RPA. So, they have made an RPA product that is free and open-source.
The core OpenBots software includes:
The Studio where you can build and configure your RPA automation.
A Server that acts as your Orchestrator to host, and schedule multiple bots enabling you to scale.
An Agent that runs your configured automation on a PC / Windows computer.
This is a generic RPA architecture and if you are new RPA, you can read more about the way RPA works here.
Other than the core product suite, the product suite also includes the following capabilities:
Process discovery: A SAAS-based tool meant for business analysts to assess, document, and track processes for automation.
Document processing: An intelligent document processing framework to extract, and classify unstructured document data.
Automation Gallery: A collection of reusable libraries and automation that is still at its early stages.
Here is the complete stack as it looks like now: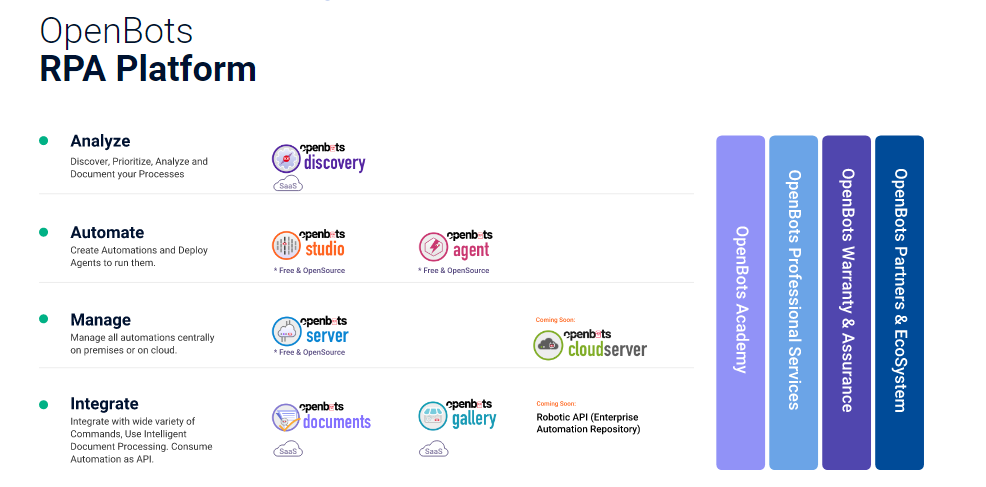 They also have an Academy and other resources which we will look at below. Before that, let's have a look at their business model.
OpenBots Business model
One major point to note is that the core OpenBots RPA products are free and open-source. Their orchestration server is also free to use. They only charge for the support of these core products.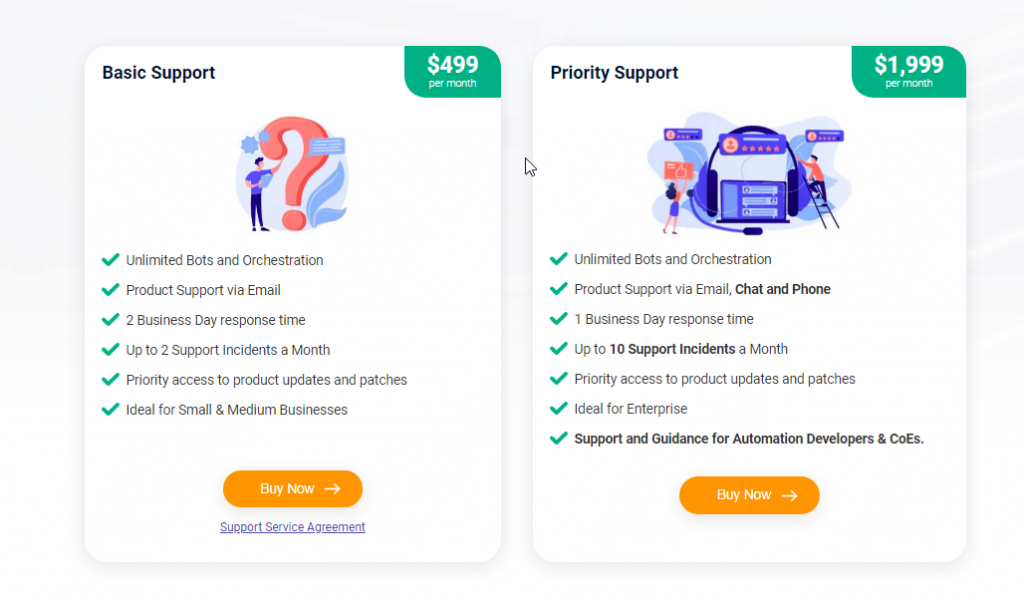 Note that other products like Document processing have their own charges.
Let us now check out the technologies that they used.
OpenBots Technologies
All the products are built on the Microsoft .NET framework using C#. The Automation, therefore, is targeted only for PC / Windows-based automation. The core suite is actually based on the TaskT OpenSource project.
The platform as such is simple yet powerful. It can be used by both beginner and advanced level developers. It has an easy and functional design with a diverse pre-built command library.
They also have an in-house community of developers and a growing public community. Most of the code and documentation is available on Github if you like to participate.
Before we go, let us summarize the OpenBots resources.
Resources
Here are a few resources for you to get started with OpenBots:
Hope that gave you some insights into OpenBots open-source RPA. What else would you like to know about OpenBots? Let us know in the comments 👇
Last Updated on 3rd March 2021