There are specific Robotic Process Automation (RPA) use cases that work best for most businesses.
It is best to stick to processes that are well defined, involve a lot of manual effort and has worked well in the past.
Choosing the wrong Process has been one of the major reasons for failed Automation initiatives. We now have a database of processes that are fit for RPA. It is advisable to stick to the proven RPA processes.
Here are a few use cases from the database categorized by business function. You can click on links to dive deeper into the use cases.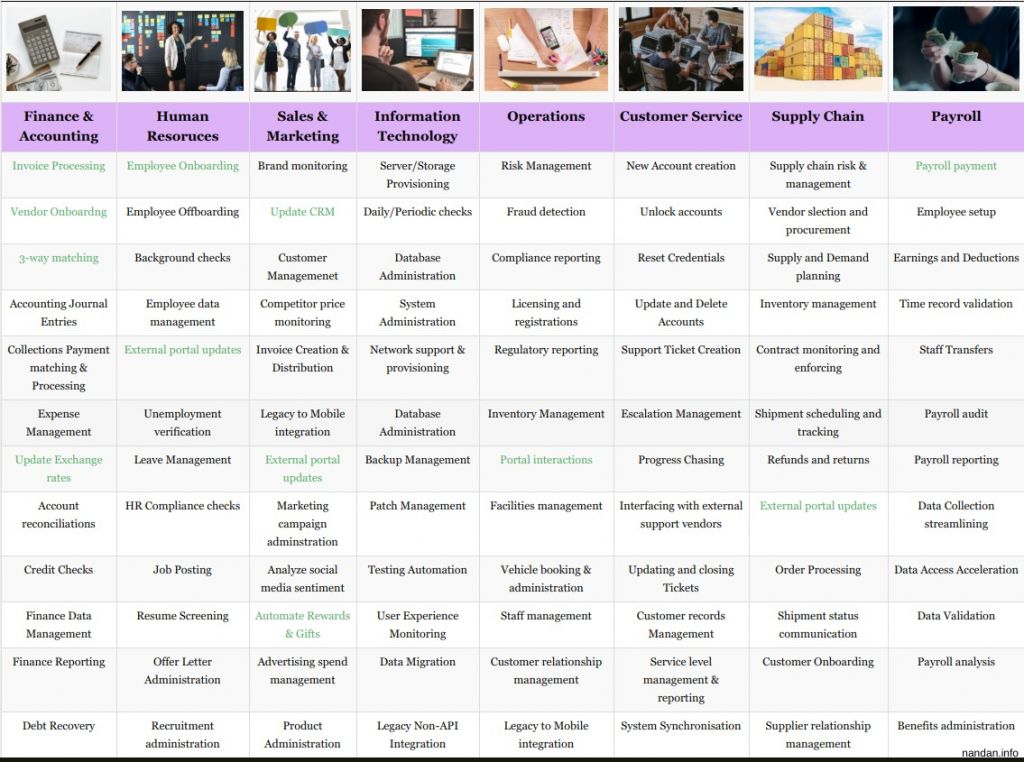 Finance and Accounting RPA use cases
RPA can fully automate 42% of the F&A tasks as per a McKinsey study. Note that it says "fully" automate these tasks. Another 19% of the tasks can be mostly automated as per the same study.
Invoice processing: Capture invoice data from scanned invoices or electronic files and process the same in ERP systems. The invoice processing time can be reduced by up to 60 to 80 %.
Payment matching & processing: Bank lockbox payments received from various sources are matched against open invoices. These are then processed in the ERP system and remittance receipts generated.
Automate journal entries: RPA can process email, perform compliance checks and process the Journal entries in ERP (SAP, Oracle, etc.), and notify the requestor.
Account reconciliations: RPA can automate the download of sub-account balances, perform validations and create balancing journal entries to handle discrepancies
3-way matching: Matching of invoices to purchase orders (PO) and goods received notes (GRN) can be automated with RPA. This ensures accurate payment and validates different parts of the supply chain.
Vendor Onboarding: Look up new Vendor information online (e.g. using DUNS number) and use that information to add the new vendor to your ERP of Invoice application.
Automate workflow and approvals: RPA can be configured for rules-based auto-approval in the AP system. Any exceptions are raised to the appropriate person for manual approvals.
Financial planning and analysis: Prepare forecasts automatically using historical and market data. Load pre-populated balances into the planning system, Create variance reports
Regulatory reporting: Capture and cleanse data, generate the regulatory reports automatically. Create complex annual reports to the extent possible.
Read more about RPA in Finance and Accounting here.
Human Resources RPA use cases
More than 50% of standard HR processes can be automated as per Deloitte. When the survey was done with Shared service leaders, about 74% of them were planning to investigate RPA.
Employee Onboarding: HR teams can assimilate new employees into the organization faster and better with RPA. You can automate most of the onboarding tasks including receiving information and paperwork from new hires, setting up access to systems, and notifying concerned.
Employee Offboarding: Just as Onboarding, all the tasks to offboard an employee such as removing access to systems, notifying people concerned, and creating standard paperwork can be automated.
Employee data management: RPA can be used to perform many of the Employee data administration tasks. This includes adding and updating data on current and past employees, contractors, interns, etc.
Recruitment Management: RPA can be used for most repetitive recruitment tasks such as scouring websites for candidates and screening the resumes received. RPA systems can work 24 x 7 to source, screen, and organize the right candidates for you.
Compensation Management: RPA can be used to input compensation data for employees into the Talent Management System.
Time record validation: Following up on missing timesheets, validate time booked, and notify any discrepancies.
Earnings and Deductions: Initiate batch creation and imports into the payroll system, complete the standard validations.
Payroll payments: With RPA, the bot automatically extracts data from an input source such as an MS Excel file or an email and enters the Payroll payment data into the banking application.
Automating process hand-offs: Typical approaches to handing work between functions and people can be inefficient, time-consuming, and error-prone. RPA can link both automated and manual HR tasks into an end-to-end workflow
Learning and development administration: Review employee certification status against requirements. Notify employee-manager and ensure compliance with certification requirements.
Customer Service use cases
RPA can be used to automate many of the common tasks at your support desk. As we saw in a previous post, attended automation is useful for the Service desk agents. So, the tasks can be initiated by a rep through the click of a mouse. They can also invoke unattended automation through a web portal, via email or SMS.
Customer Management: Agents can quickly add or update customer records with RPA. They can also update the details on other systems with a mouse click.
Update CRM: RPA can automate the process of sending the Sales & Order information from ERP to CRM and notify the salesperson
Access Management: RPA can be used to validate identity, unlock accounts, reset password credentials and pass it back to users.
User Administration: RPA can create new accounts across multiple systems and applications.
Incident/Change Management: RPA can raise incidents/change requests by creating and/or updating tickets. These tickets can be created from email or can also be auto-created with inputs from monitoring systems.
Progress Chasing: RPA can follow up on incidents with users and report the progress on tickets to concerned.
Update or Close Tickets: RPA can close tickets after follow-up if the users indicate the incident has been resolved or if there is no response after repeated follow-up.
External and internal interfaces: RPA can be used to drive actions in external systems (supplier, partner or customer) or even internal systems with a non-disruptive integration.
Information Technology use cases
Infrastructure support in IT is one of the areas that can be automated extensively with RPA and other technologies. IT can also use both unattended and attended automation to automate manual tasks.
Database Administration: Repetitive tasks such as database validation, extending tablespaces, clearing database locks, etc.
System Administration: Sysadmin activities including scheduled tasks and intervention using management tools
Backup Management: Monitor backup jobs, run diagnostics, restart jobs or alert support team
Patch Management: Check the patch levels, Schedule, execute and validate patching using tools and scripts.
Daily Checks. Automate all manual system and application checks. Eg. SAP ERP daily checks.
Provisioning: Perform server, storage, and network provisioning actions.
Network Support: Monitor and manage LAN, WAN devices, load balancers, firewalls, and other network technologies
Test Automation. RPA can be used to automate manual testing efforts, user acceptance testing as well as load testing.
These are some use case examples that work well with RPA.
Obviously, there are many more use cases or automation ideas that you can use. If you have any that you know, please do add them in the comments. 👇
Last Updated on 19th July 2021