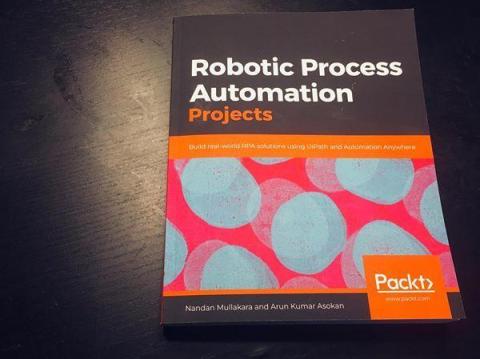 Build real-world RPA solutions using UiPath and Automation Anywhere
You don't need rote learning in the Digital Age.
Learn skills quickly through Action.
The best way to learn swimming is to jump into the pool.
The best way to learn to ride a bike is to ride a bike.
The best way to learn how to write well is to start writing.
The best way to learn RPA is by doing real-life projects.
So, I co-authored an RPA Projects book with step-by-step instructions to get you started on real-world projects.
The projects use free community RPA versions and free Saas apps so that you can easily do them yourself.
It is ranked as one of the best books on process automation!
15 best Process Automation Titles (Solution review)
The editors at Solutions Review curated a list of the best process automation titles on Amazon.
RPA project is the first on the list. Check out the list and read what they have to say.
Each of the titles listed in this compilation meets a minimum criteria of a 4-star-or-better ranking.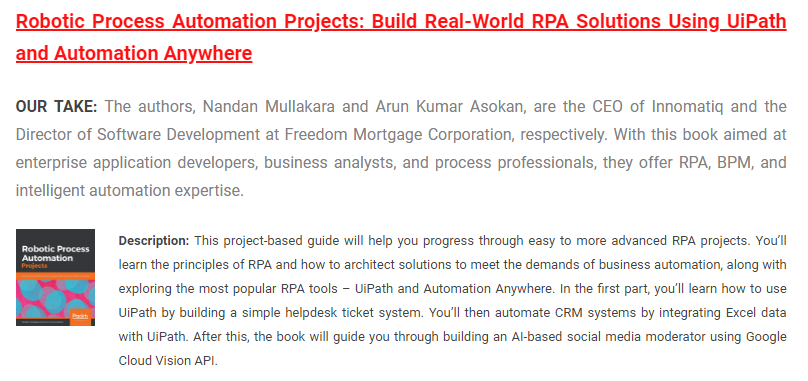 Robotic Process Automation (RPA) Projects Book – Code in action
Here is a playlist with the projects in action:
Download the code for the projects on GitHub.
RPA Projects Book: Build real-world RPA solutions using UiPath and Automation Anywhere
Key Features
Use popular RPA tools Automation Anywhere A2019 and UiPath, for real-world task automation
Build automation solutions for domains such as System Administration, Finance, HR, Supply Chain, and Customer Relations
Extend your RPA capabilities by implementing Intelligent process automation with APIs and AI
Book Description
Robotic Process automation helps businesses to automate monotonous tasks that can be performed by machines.
This project-based guide will help you progress through easy to more advanced RPA projects. You'll learn the principles of RPA and how to architect solutions to meet the demands of business automation, along with exploring the most popular RPA tools – UiPath and Automation Anywhere. In the first part, you'll learn how to use UiPath by building a simple helpdesk ticket system. You'll then automate CRM systems by integrating Excel data with UiPath. After this, the book will guide you through building an AI-based social media moderator using Google Cloud Vision API. In the second part, you'll learn about Automation Anywhere's latest Cloud RPA platform (A2019) by creating projects such as an automated ERP administration system, an AI bot for order and invoice processing, and an automated emergency notification system for employees. Later, you'll get hands-on with advanced RPA tasks such as invoking APIs, before covering complex concepts such as Artificial Intelligence (AI) and machine learning in automation to take your understanding of RPA to the next level.
By the end of the book, you'll have a solid foundation in RPA with experience in building real-world projects.
What you will learn
Explore RPA principles, techniques, and tools using an example-driven approach
Understand the basics of UiPath by building a helpdesk ticket generation system
Automate read and write operations from Excel in a CRM system using UiPath
Build an AI-based social media moderator platform using Google Cloud Vision API with UiPath
Explore how to use Automation Anywhere by building a simple sales order processing system
Build an automated employee emergency reporting system using Automation Anywhere
Test your knowledge of building an automated workflow through fun exercises
Who this book is for
This RPA book is for enterprise application developers, software developers, business analysts, or any professional who wants to implement RPA across various domains of the business. The book assumes some understanding of enterprise systems. Computer programming experience will also be beneficial.
Table of Contents
Help Desk Ticket Generation
CRM Automation
Moderate Social Media Using AI
Purchase Order Processing with UiPath ReFramework
Completing an RPA Challenge
Sales Order Processing
ERP User Administration
Employee Emergency Notifications
Using AI and RPA for Invoice Processing
Appendix A and B for UiPath
Appendix: Looking forward and Next Steps