We are seeing a good amount of interest in open source RPA tools.
To my surprise, a post on a Linux version of TagUi garnered quite a bit of interest. We recently saw a company announce a $5.6M investment to bring open-source RPA. We also had Softomotive announce a new project to develop an open-source RPA programming language.
Mainstream tool vendors have marketed RPA as "Bot" creators that can carry out tasks cheaper, better and faster. While RPA mostly delivers on ROI, the Pricing or Licensing costs are critical issues hampering scalability as per HFS Research.
Considering the recent developments, I think we will soon start seeing a wider array of Open source options for RPA. Generally, as the Technology matures, we would see more compelling open-source options that could even overtake the mainstream technologies (eg. Android, Linux, etc.)
This could be the next big thing in RPA!
So, I thought I would summarize the Top 5 evolving open source RPA tools that we have as of now. Before we get into the tool details, if you like to rather watch, here is a playlist with demos of all the Top 5 Open source tools. (You can switch between videos using top right Playlist icon)
Note that all these tools are evolving and do not have a mature Control room or Orchestrator. So, this can be used only for simple Automation.
With that said, here are my top 5 as of now.
Top 5 Open Source RPA Tools
Open RPA
Open RPA is easy to use open-source RPA tool with a drag-drop interface like mainstream RPA tool vendors.
Open RPA looks a lot like UiPath! That is because it uses the same Windows software under the hood – the Windows Workflow Foundation. The entire platform is built using a microservice architecture.
You can combine with OpenFlow to Orchestrate Automation made with Open RPA. OpenFlow integrates with the event-based workflow engine NodeRED to automate beyond RPA. Node-Red is an Open-source workflow engine with a Web UI. Open RPA has expanded Node-Red to support many users and workflow states.
They support Scheduling, Central management, Remote management, and handling of state, projects, and workflows using OpenFlow. It also adds Access Control management on all objects, encryption and access control.
Here is the system landscape:
The software is improving continuously and looks promising. With the support of the community, it can develop into a robust software.
Check out the Open RPA on Github, documentation on their wiki pages. You can download and try it out here here
Robo Corp
This is a new Open-Source RPA tool available to the public as of July 2020.
The tool has quite a bit of investor backing – an initial $5.6 million seed investment and another $5.4 million round of funding before expected release.
The Robocorp RPA is built on top of the popular open-source automated testing framework – Robot Framework project. The tool has three components:
Robocode Lab provides an easy way to get everything needed in one place. With the simple installer (supports Windows, macOS, and Linux) you get an environment for software robot development.
Robocloud allows you to start operating software robots in an instant. It's always available and doesn't require complicated infrastructure setup.
Robohub is a constantly growing repository of learning materials and documentation for software robot developers.
As per the Robocorp builders, they want to fill a gap. "What is missing in RPA are the tools and a platform that can unify the industry and enable companies of all sizes to benefit from automation. Building this kind of ecosystem needs open-source tools that are widely available to everyone, and that is exactly what Robocorp is launching."
You can access all things you need to build Software robots at Robocorp.com.
TagUI
TagUI is an open-source RPA maintained by AI Singapore, a government-funded initiative. It currently has nine contributors and has pretty good documentation.
TagUI uses "human language" like Command line syntax to build your automation. So, you can automate with "language" like this:

You can also do Visual automation for Websites and Desktop using integration with Sikuli. Under the hood, it converts that "language" you wrote or recording into JavaScript code.
Here are some key features:
Automate Chrome in visible/invisible mode
Visual automation of websites and desktop
Write in 20+ human languages & JavaScript
Chrome extension for recording web actions
Python & R integration for big data / AI / ML
Here are some advantages with respect to other mainstream RPA tools:
Cross-platform works on Windows, macOS, Linux
$0 to use, under Apache 2.0 open-source license
Headless, runs in the background – you can continue using the computer uninterrupted.
TagUI can also Python RPA now. You can add Python code for programming RPA.
If you like to try out, TagUI tools and documentation is on Github.
OpenBots
OpenBots launched in November 2020 is a new Open source RPA in the market. It comes with an open source process automation tool suite that provides discovery, development, and bot orchestration capabilities through its RPA Studio, Server, and Discovery software.
OpenBots is based on TaskT OpenSource project (http://www.taskt.net/). The software as such is built on the .NET Framework in C#.
The initial feedback I have got on OpenBots is positive. OpenBots has a dedicated in-house community team and a public community available to assist you 24/7.
OpenBots is a Low code platform. I see that it is closer to Automation Anywhere in terms of Studio appearance.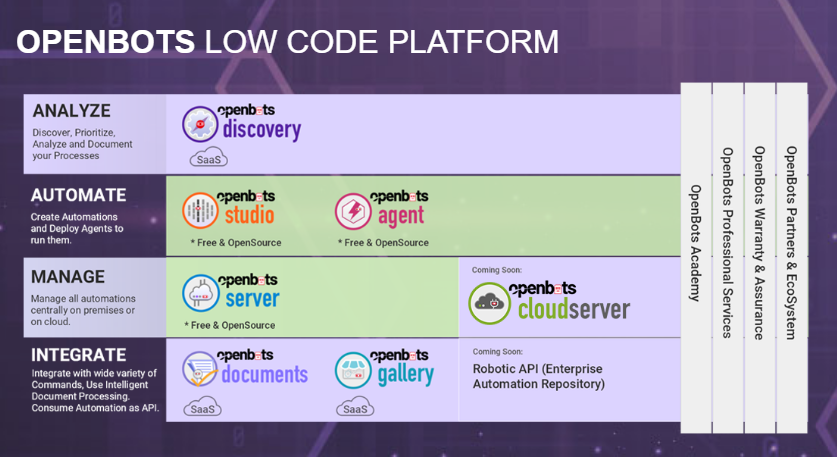 You can download Openbots Studio and Server from their website and get started now. The Discovery tool is also available as a Saas solution.
Robin
Edit Jan 2021: As of May 2020, since Softomotive has been acquired by Microsoft, there has not been much updates on Robin front. I hear the project is in limbo right now.
Robin is a free domain-specific language specifically for building RPA software bots (They have a roadmap to Opensource it).
The idea of Robin is to develop a standard language for RPA tool development. This would enable easy migration of bots built on one platform to another.
Softomotive, the company behind Robin is looking to build its future tool version based on Robin. But would others follow suit? The current vendors are unlikely to as of now. But, we could see more Open source tools that build on top of this providing better options.
From a technology perspective, Robin is a Microsoft .NET Domain Specific Language (DSL). It runs on Microsoft .Net Common Language Runtime (CLR), the virtual machine component of Microsoft's .NET framework. You would need a basic understanding of that to get started.
Robin Software Development Kits (SDK) is expected soon and should make it easy for developers to code. As per the site, developers can "turn your code into a Robin module filled with actions with just a few steps."
Robin is in the initial stages and has a long way to go. It is currently at the beta stage – version 0.9. They had plans to release a Version 1.0 on Github soon. With the Microsoft takeover of parent company Softomotive, the plans for Robin are unknown right now (Updated: September 2020).
You can download and try it out! Here is a quick start tutorial to get you started.
Open Source RPA Tools – Looking ahead
There is huge potential with Open Source RPA. The best part about Open source RPA tools is that it creates an open framework for you to combine different tools to innovate.
With $0 bots, you would be able to focus on even the smaller benefits and not spend time justifying costly licenses.
Those were the top 5 Open-source options that I have across. 'Am I missing anything? I appreciate your comments and feedback!
Explore more about Intelligent Automation here.
Last Updated on 11th February 2021