Blue Prism, the pioneer in RPA is now being sold to the highest bidder. Meanwhile, UiPath has emerged as the poster child of the industry.
Over a period of time, UiPath has completely outpaced Blue Prism and is now much more bigger and valuable. So, how did Uipath become about 20x more valuable than Blue Prism? 
It is too early to write off Blue Prism but it feels like the end of an era. As you know they even claim to have coined the term "Robotic Process Automation" (RPA).

Like many practitioners who started with RPA, I started my Software Automation journey with Blue Prism. I am even certified in Blue Prism😊. It's a great tool and a robust object-based automation solution but has failed to keep up with the market. Why?
I asked Linkedin and here are a few pointers based on the inputs and my experience:
Community
Many, including me, believe UiPath is ahead because of its 1 million+ strong community. They started by releasing a free community edition in 2016 and within the first year, they were shocked to see 250K downloads! They knew they could not support all these downloads and so created a community forum that grew rapidly. They also introduced free training and certifications. These steps created a flywheel that attracted developers, evangelists, and eventually customers.
Automation Anywhere followed suit with a community version sometime later and Blue Prism took a long time to come up with a "Trial" version. Blue Prism technology was designed for larger enterprises and so was not amenable for a quick download. They also took much more time to come up with free training.
All this meant that the Blue Prism community was not as popular because it was difficult to get hold of the tool or get trained on it. Without a big community, you are not getting as much feedback on the features the users and customers are looking for.
Features
Uipath releases new features every three months. Many of these features are driven by community feedback. Some of the features do not make an impact but they keep trying and reaching out to new areas. For example, of late they have been venturing into a lite version of low-code application development and a testing suite. This means they keep expanding their capabilities and expanding the Total Addressable Market (TAM).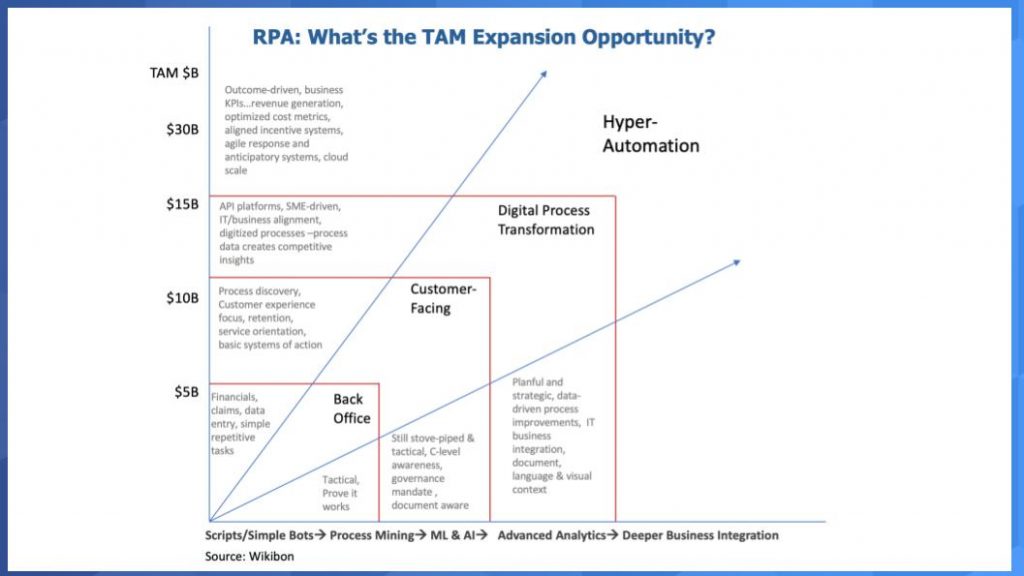 Blue Prism has been comparatively slower with its releases but has been looking to keep up with its Intelligent automation platform. The problem is that there are far lesser features and their pace is slow. Many of the new products and features take a long time to make it from announcement to release. A case in point is Decipher, which was announced in April 2019 and was finally released to a control group of only a few nominated customers after more than a year!
Tightly controlling the supply of the software has been Blue Prism's business model!
Business model
Blue Prism sells its software only through consulting partners. It seems like they want to keep a close tab on who gets hold of the software and who implements them. So, they have an elaborate process and strict criteria to choose their partners for sales, training, and implementation. I have heard from people how bureaucratic and costly it is to become a Blue Prism partner. The net result is that there are many more UiPath partners in many countries around the world.

It is as if Blue Prism was (and still is) holding itself back. Instead of pressing their advantage of being the pioneer in the space, they choose a model that is restrictive. Their technology choices have been pretty restrictive as well.
Technology
Blue Prism has an object-oriented architecture that helps manage reusable components better. Overall, it is a great technology but lacks a recorder if you want to speed up your development. Also, the technology was not that great for "Attended automation" – wherein the automation is initiated by a person at a computer.

Blue Prism says that desktop automation is not as secure and has a higher Total Cost of Ownership(TCO). When they started seeing a rise in Attended automation, they brought in a workaround with a third party. Then finally, they introduced Blue Prism Interact which they say is a "more secure way" to do Attended automation. But just like everything, it was too late and not quite a breakthrough innovation.
The lack of innovative new features could be because Blue Prism did not have enough infusion of cash through investments.
Valuation and Investment
Blue Prism has been falling behind UiPath because of years of under-investment in new features as we saw above.
Probably one of the choices Blue Prism regrets most is the decision to list early on the London Stock Exchange. Blue Prism has only raised £240M from investors compared to UiPath that raised almost $2B from private investors before their IPO in April 2021. Automation Anywhere has raised $845M from private investors so far and plans to IPO in 2021.
Some would argue that their location and place of listing (London Stock Exchange) has something to do with it. The new CEO Jason Kingdon has been eyeing a US listing to reduce the valuation gaps. But that too looks late as private equity now seems to have encircled the pioneering RPA company.
That then is the theme of Blue Prism – unfortunate choices, half-hearted attempts, and many of them pretty late. Blue Prism should be a cautionary tale for all players in the industry. At one point Blue Prism stock surged in value from less than £50m at the time of listing in 2016 to almost £2bn by 2018 before losing about two-thirds of its value in 2019.
UiPath is now listed on the Stock Exchange and has been slowing down – they are down 40% from their peak in terms of Stock price. Time will tell how they perform and if they can keep delivering but for now, they clearly have the RPA crown.
Last Updated on 3rd October 2021