We now have enough data to summarize what you should consider before adopting RPA. This is thanks to the early adopters and the trials and tribulations they have gone through. If you are one of the organizations coming on board, you can take advantage of the learnings so far.
It looks like RPA will reach near-universal adoption in the next few years. More than half of the respondents(53%) have already started their RPA journey as per a Deloitte study. About 75% of the Organizations would have some form of RPA implemented in the next 2 years.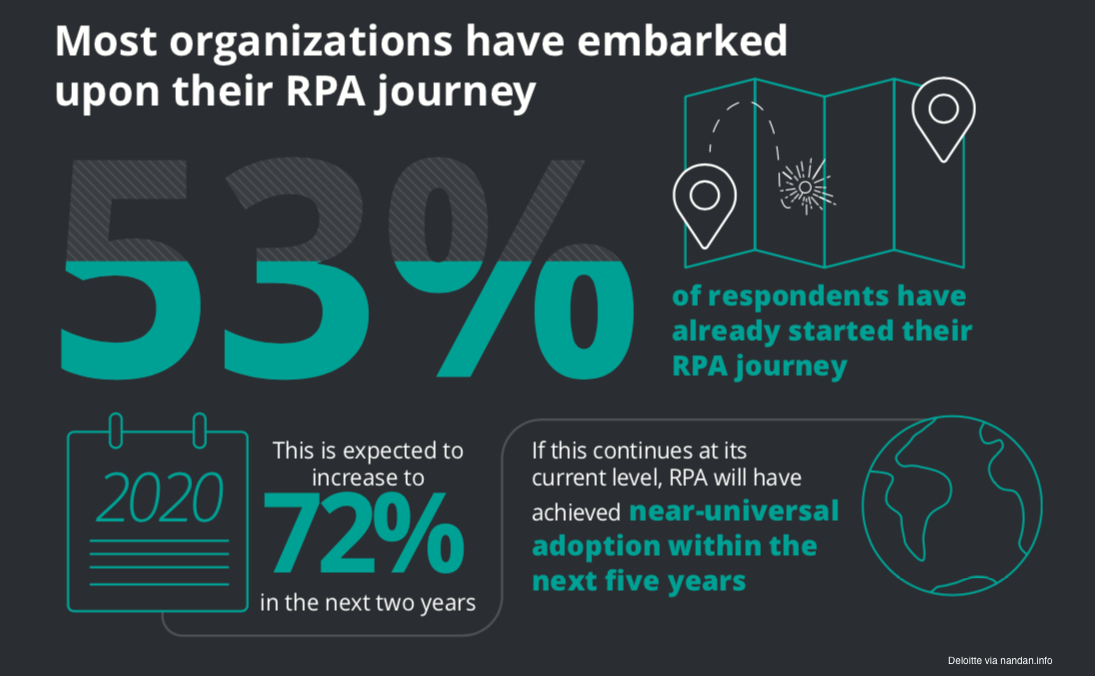 Implementing RPA brings significant benefits. RPA continues to meet and exceed expectations across various key areas. This includes improvement in Quality, Speed, Compliance, Productivity, and cost.
While there is a lot of success around RPA, only 3% of the Organizations scale up as per the study! As per one Mc Kinsey study, "it is clear that the first act in the 'robotics evolution' has not been a slam dunk for many, especially when companies try to scale".
How do we scale our future implementations? What is our learning so far? It turns out most of the failings can be traced back to a few things we could have considered as we started on the journey. Here are 6 top considerations.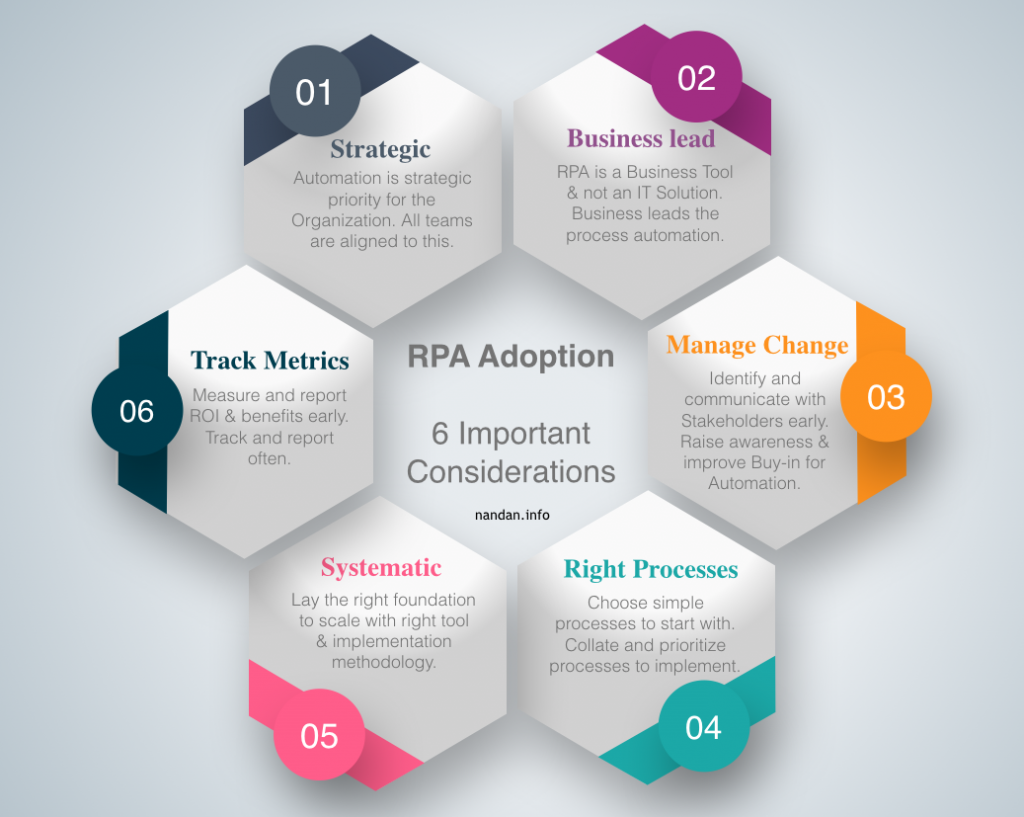 1. Strategic priority
It is important to make Enterprise Automation a Strategic priority for you to succeed. All the stakeholders should jointly own the results. This is easier if this is a strategic direction and everyone is rowing in the same direction.
This is easier said than done though with the competing objectives of different stakeholders. It is a balancing act at the end of the day but is a very tough act if automation is not a priority for the organization.
I like to say that there should be a "Pull" from each of the business groups involved rather than being a "Push". It's much easier that way.
2. Business Lead
Intelligent Automation(IA) or RPA is a Business tool and not an IT solution. So, RPA projects should not be considered as another technology implementation. IT has to be involved from the beginning but in a slightly different way. IT has to ensure proper technical governance (eg. Hosting, Security, etc.) and let Businesses lead the automation of processes.
This is a major mindset shift and probably the most important one for successful RPA implementations. Most of the initiatives on RPA either do not take off or end up in failure when RPA is considered an IT tool and goes through the usual Tool evaluation and implementation process. It is not easy but worth the time to have discussions and align everyone with the notion that business would lead the process automation.
3. Manage change
There is a lot of hysteria around job losses due to Automation. So, it becomes especially important to plan and manage communications. I would start by defining the roles of the stakeholders clearly. Have a plan that involves supporting teams like IT, Audit/Compliance and Procurement as early as possible.
As with any initiative, there would be resistance from various levels and groups. It is important to understand the concern and address at each level and early. We have seen resistance from mid-level managers mostly as well as people working on the tasks. It is important to educate and communicate to raise awareness of automation and its benefits. This can help improve buy-in on automation.
4. Right Process
It is important to select the right processes especially at the beginning and show a quick return on investment. People have found it best to start with simple processes that are visible but not very critical to the working of the group. It is better to select processes with a few exceptions paths as possible to start with.  Studies also suggest that you keep away from processes that have a lot of Audit involvement in the beginning lest we end up with questions you are not ready to answer yet.
Selecting the wrong initial processes could slow down or even stop the Automation initiative. Choosing the wrong pilot process has been one of the major reasons for failed Automation initiatives. Now that we have a database of processes that are fit for RPA, It is advisable to choose the initial processes with a strong fit.
5. Systematic
A planned approach to implementation ensures that you have the right foundations to scale the automation initiative. So, choose the right tool and ecosystem for the specific use case(s). Take care of your security considerations right from the beginning.
In terms of implementations, choose the methodology that works best for you. Agile methodologies are usually better for quick wins. Finally, establish Governance for managing Intelligent Automation throughout the life cycle.
A well thought out launch with detailed IT controls, Using the right tools and Business Processes is a hallmark of successful implementations.
6. Track metrics
It is helpful to identify the relevant metrics and track them on a dashboard. Agree with the business teams on the success criteria by identifying the post-automation performance metric and how it would be measured. It is useful to measure and track the cumulative Savings and ROI of the automation. Successful initiatives have the right level of reporting and leaders that understand the ROI & TCO of the automation projects.
In conclusion, while the above points summarize the common considerations, each organization, team, and implementation is unique. You learn a lot by doing and starting out. It will take a few cycles before you discover your unique challenges but these considerations based on past data is a good start.
Last Updated on 25th February 2020