Microsoft now has it's own RPA!
To me, the great news for all of us RPA practitioners is that this is another validation of the technology. With SAP and Microsoft in the fray, it is now proven that there is a real need for this kind of technology in the enterprise.
I would also argue that this technology is in a unique position to orchestrate all the emerging technologies like AI and Blockchain. With supporting technologies like Process Discovery, iBPM (Intelligent BPM), ICR (Intelligent OCR) etc. also enabling Process Automation, this is an exciting space to be in right now!
Microsoft RPA – UI Flow in Power Automate
Microsoft has added the RPA capabilities to its Flow Platform which was rebranded to "Power Automate". The RPA capability in Power Automate is called "UI flows".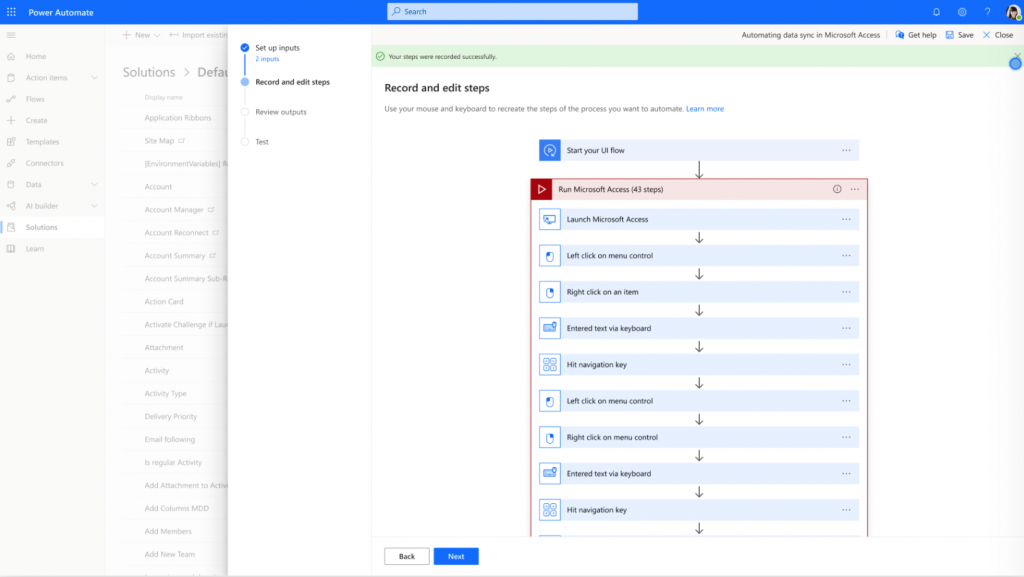 UI flows is right now in public preview. Creating a UI flow is like in RPA – point-and-click experience with some coding. It can automate and orchestrate tasks across APIs with prebuilt connectors for more than 275 apps, SAS providers, UI-based recording, and even do Virtual agents and AI – now that may be a real end to end Automation platform!
We will look at each of the other features separately in a bit but before that, let us see how it actually works.
How does it work?
If I have to say it simply – I think it works almost like UiPath. Why not take the lead from the most popular RPA in the market? 🙂
You start off by choosing if you want to do a Desktop or Web automation.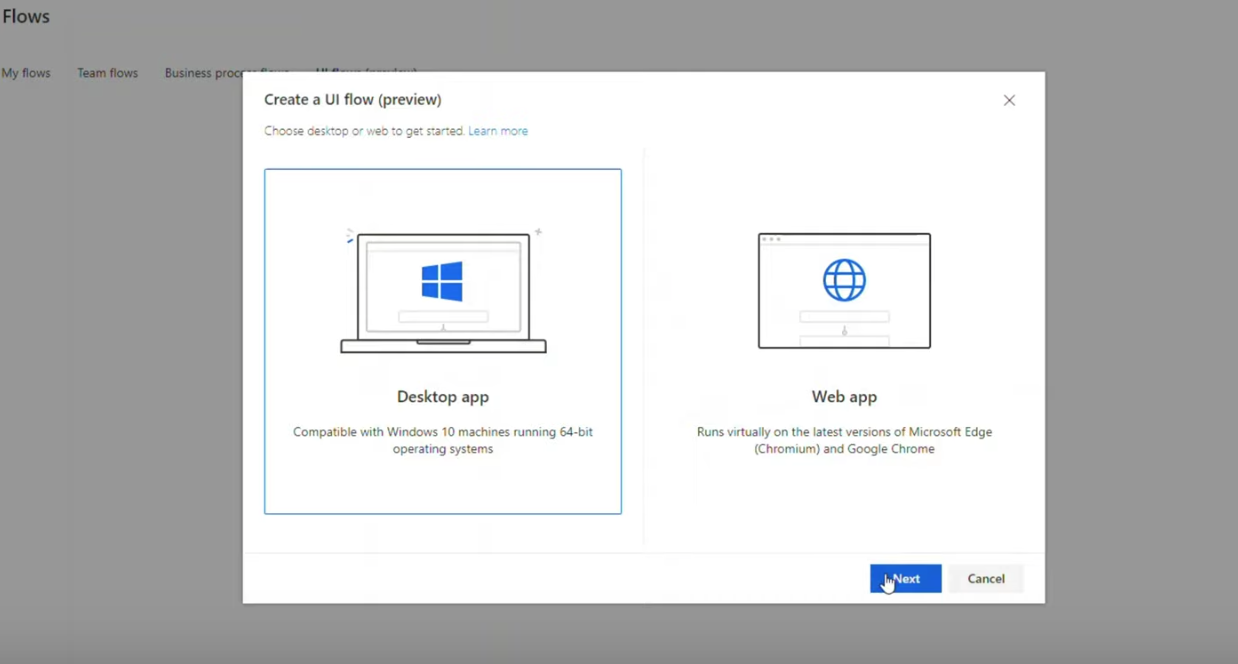 Next up, choose the inputs you want to use. It is like adding variables in UiPath.
Then as in UiPath and other similar RPA, you have a recorder. Use the recorder to point to the items on the screen and map them.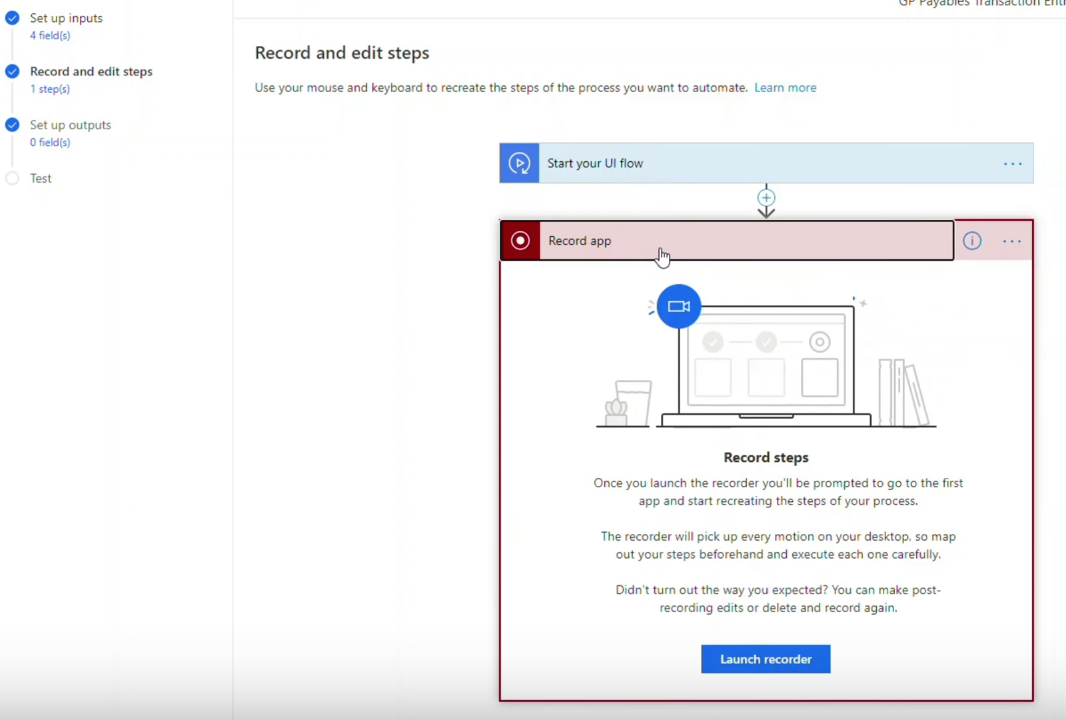 You even get a Recorder panel like UiPath!
Once you have recorded the steps, you can add it to an overall flow like below. I feel that Microsoft has made it easier to add your Actions (like UiPath Activities) and configure them as well. So when fully developed, this may be more like StudioX and maybe better.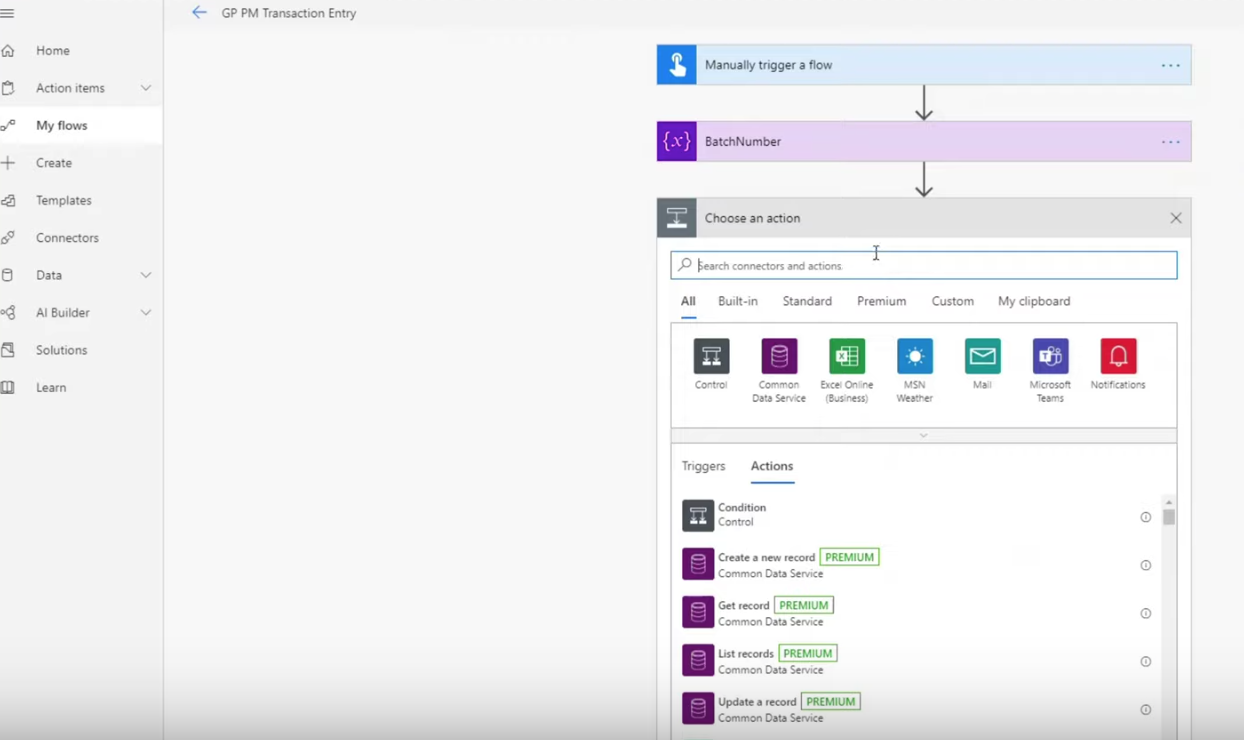 Screenshots from Screengrab – courtesy Mariano Gomez
So, that was a quick look at how the UI Flow actually is. You can view a complete video of how to create a simple workflow here.
Now that you got a sense of the UI Flow RPA, let us look at the other features of Power platform itself. It is more than just RPA.
Microsoft Power Virtual Agents
This is a low-code application that allows you to create and deploy chatbots. So, from an RPA perspective, you have integrated, easy to create Chatbots that you can use with your automation.

The idea is that people in business like customer service, sales, marketing, finance, or HR can easily create these Chatbots. It has an easy to use, guided low-code point-and-click graphical interface to create these Chatbots or "Virtual agents" without the developers.
How cool is that? Microsoft Power Virtual Agents is also now in preview but you can try it out here.
Microsoft AI Builder
This is another low-code application to add AI to your workflows. They have a few prebuilt AI models– like key phrase detection, language detection, sentiment analysis, etc.
It enables organizations you to add AI to your specific business needs with your unique data without the need to hire data scientists or developers as per Microsoft. It takes common AI scenarios and provides point-and-click solutions to solve everyday tasks like forms processing, object detection, and text and binary classification.
Now available in preview, these prebuilt scenarios include:
Key phrase extraction— identifies the key talking points from your text
Language detection—identifies the predominant language for your text
Text recognition—extracts embedded, printed, and handwritten text from images into computer-readable form
Sentiment analysis—detects positive, negative, neutral, or mixed sentiment in your text data
Process Discovery with FortressIQ
Microsoft also announced a partnership with FortressIQ to enable you to discover the Processes for automation.
FortressIQ is a computer vision based solution for process discovery. They use your computer Graphics card to passively identify opportunities for process automation. Apparently, you can create a Power Automate "Flow" with the click of a button!
There are other aspects to the Power platform like Power Bi and Power Apps that you can explore here. I only covered the aspects which I thought were key to Process Automation.
So, that was a look at the Microsoft RPA and the overall Power Automate platform. It is an emerging low-code platform that can in the future help us create a quick end to end Automation.
Here is my take on what it means for the existing RPA vendors.