What does Robotic Process Automation (RPA) stand for?
Is it screen scraping? Yes, it is the most visible part of RPA but there is much more to it!
In fact, it is much more than the technology itself. If we think in terms of technology, we are likely to get stuck thinking it has limited capabilities like screen-scraping or that it is a band-aid for the short term.
But if you think of it in terms of Software Robots, you begin to understand why this concept is appealing to many. Think of many software robots with built-in governance that you can unleash in your organization to assist your workforce or just automate some back-end processes completely.
That is the power of RPA! In this article, let us dig a bit deeper into what RPA means and why people are embracing it.
The Meaning of RPA
In one of my very first posts, I mentioned that RPA is a capability that allows you to carry out tasks on a computer just like a human would. That is a simple layman's description. Do we have a standard definition?
Yes, according to IEEE, RPA refers to the use of a "preconfigured software instance that uses business rules and predefined activity choreography to complete the autonomous execution of a combination of processes, activities, transactions, and tasks in one or more unrelated software systems to deliver a result or service with human exception management." (IEEE Std 2755-2017)
There is no mention of Screen-Scraping! It also does not limit RPA to Legacy systems or any specific technology or methodology. So, why do we need unfamiliar terms? Why not stick to RPA and make it better together?
Instead, we would like to explicitly bring in a lot more technologies and methodologies. It is all in good faith but that ends up confusing people and looks more like Hype and Posturing rather than helping.
The good news is that RPA keeps going.
RPA Automation is going strong
Despite the various competing terms – Hyperautomation, Integrated Automation, Intelligent Process Automation, etc., RPA keeps getting more popular. Have a look at the Google trends.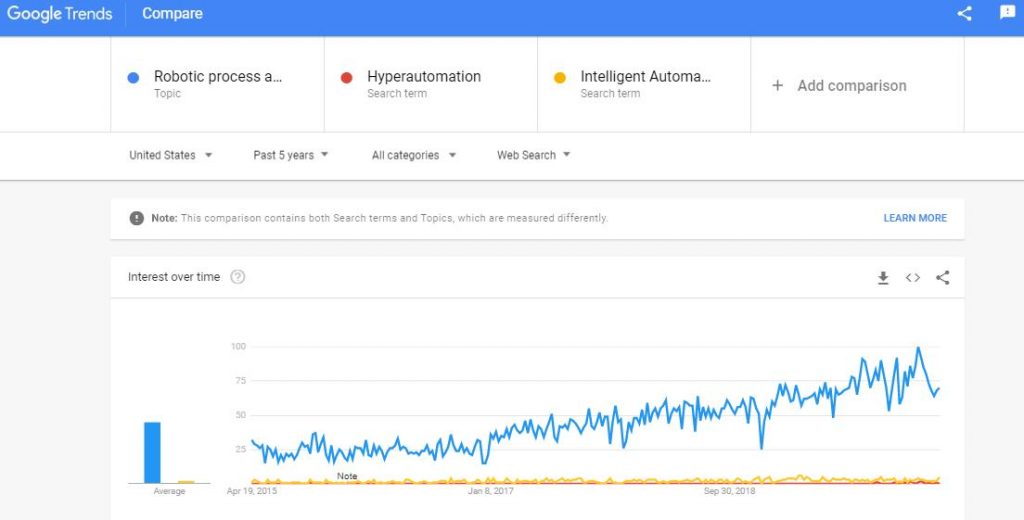 In recent times, many big players have jumped in. That is a validation of the market and the need for this concept in enterprises.
It is interesting that all the fresh players are introducing integrated Automation solutions but get the most attention for adding RPA. Watch the headlines!
Microsoft
Microsoft introduced a comprehensive Automation platform at Ignite 2019.
They realized that they always had an RPA-like platform (Flows) and all they needed was to add a UI integration to make it complete. So, they simply added Selenium IDE (Open source Test and record tool) and they were off to the races.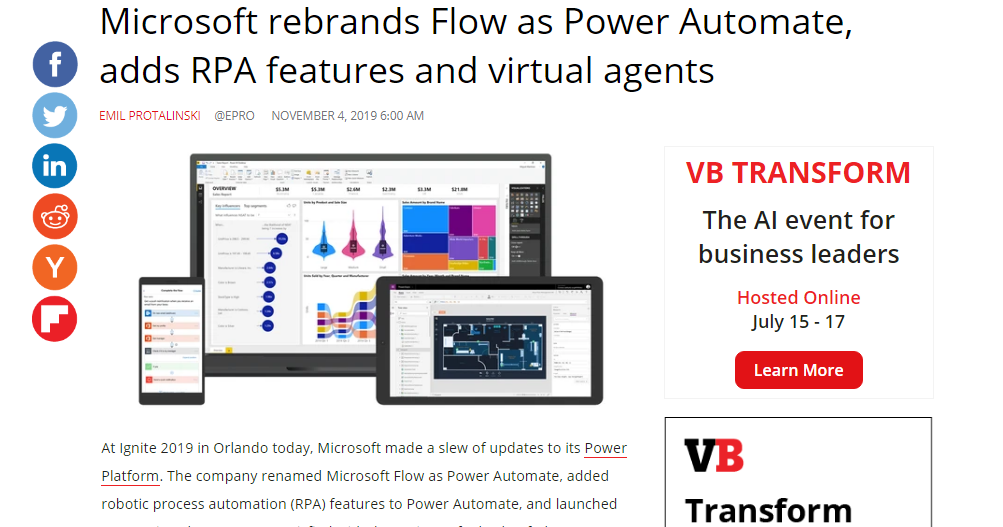 All were excited that Microsoft had also added RPA! They point to the Selenium component (UiFlows) as their RPA. But the entire Power Automate software (previously Flow) fits the RPA definition well. It is the "software that uses business rules and predefined activity choreography" to enable your automation.
Appian
Appian is one of the Leaders in the Low-Code space along with Microsoft (see magic quadrant below). They are also leaders in the Digital process automation (DPA) or iBPMs space. But still, they chose to add RPA through an acquisition.
Why would a low-code DPA player add RPA? Well, we will see why but the investors cheered the acquisition, and the stock went up 34%.
SAP
SAP needs no introduction. They too added RPA by acquiring Contextor. SAP has integrated RPA along with ML, Chatbots to offer an integrated Automation platform they call as "SAP Intelligent Robotic Process Automation".

IBM
IBM is acquiring WDG Automation – a software provider, headquartered in Brazil. The IBM cloud team plans to add WDG Automation's RPA and AI-driven, omnichannel chatbot capabilities to two areas where enterprises have critical automation need
So, many of the existing players are adding RPA through different means.
Why are all these players jumping into the fray?
They are hoping some of the magic would rub off.
There is Magic in RPA
RPA has certain qualities that attract the attention of people.
Some may say it is marketing but then all products do their marketing. Some messages stick and some don't. The competition is frustrated that such a puny technology gets all the attention while theirs don't. Why?
RPA is a great Concept with amazing Optics that deliver remarkable results. Let us look at each of them.
The Concept
There is absolute magic in a bunch of Software bots taking up tedious human work and freeing them up to do better work.
The Industrial age created mind-numbing work with identical workers doing monotonous manual work. When we added service jobs, we carried it over to the white-collar jobs as well. Since many can relate to this, they love technologies that take away this work. Watch this award-winning short film that I think depicts it well. Fair warning: the video is not RPA. If you do not like exploring the softer side, please skip 🙂
The Optics:
I have seen people excited when they see videos of the Software bots working. They have many ideas from the time they see it. The optics are created through the screen action as you literally "see" the Bot working. The Bot though could be performing many operations in the background like calling APIs or even analyzing using AI – all perfectly Orchestrated. On that note, here is a quick demo of a bot in action.
The Results
RPA when done right, delivers impressive results – it is Cheaper, Faster, and Better!
It gives you rapid results with in-year benefits. It improves your Quality, Accuracy, and Compliance which results in improved customer service and employee motivation.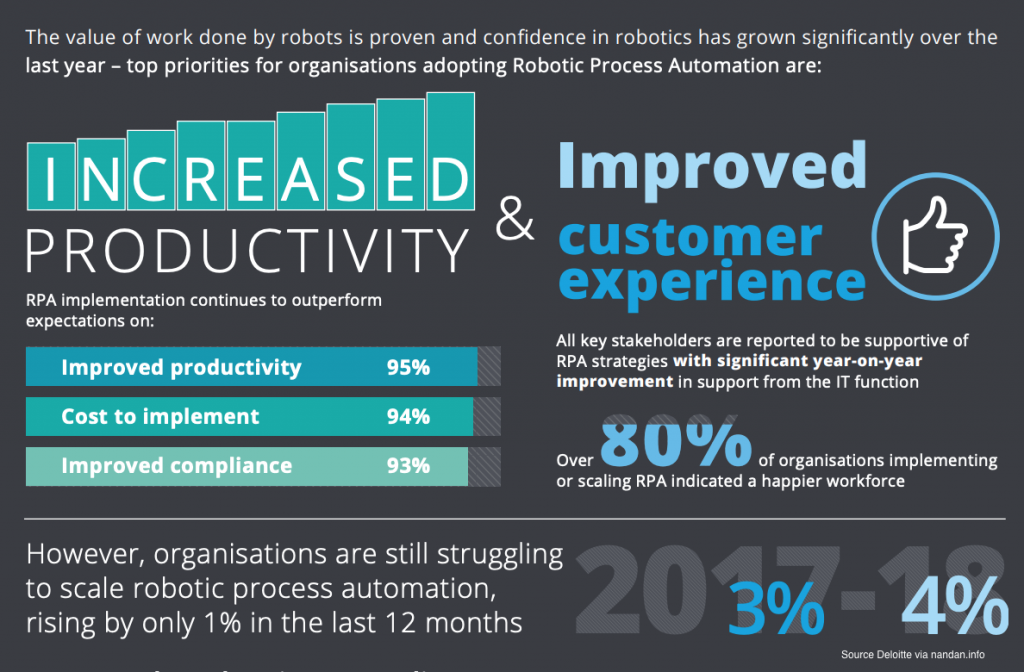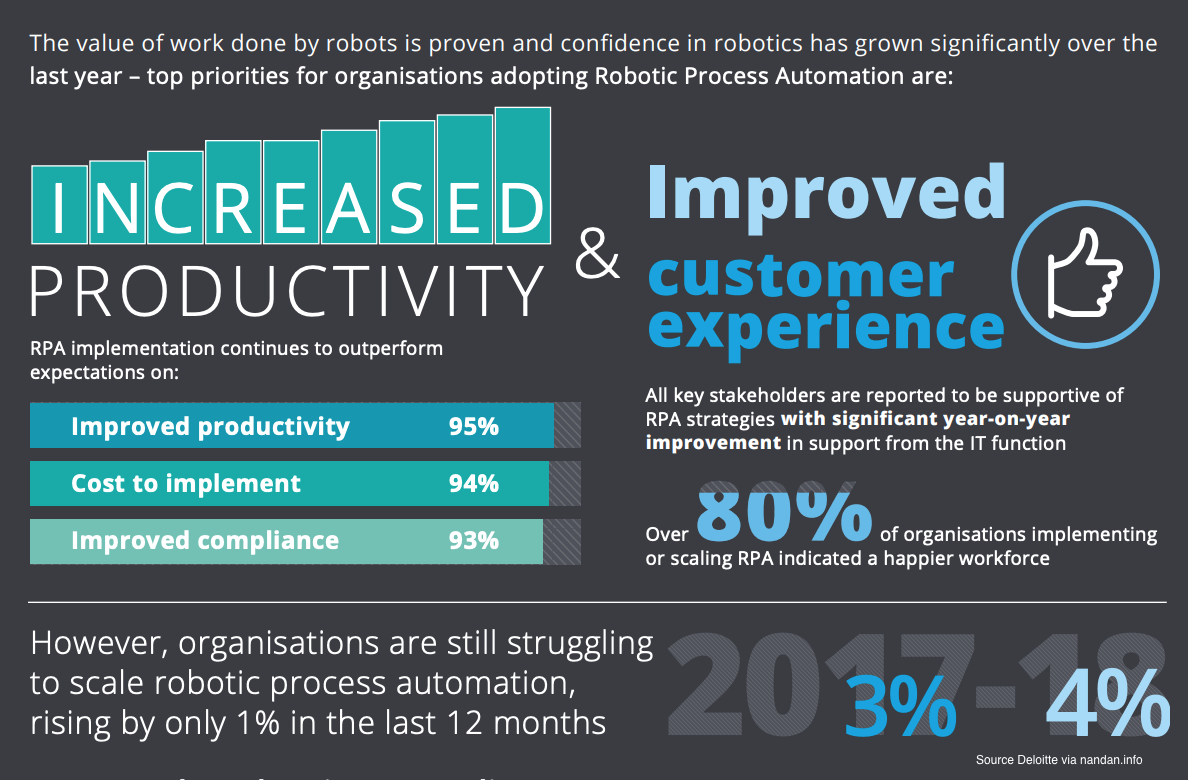 Conclusion
Let us face it – RPA may morph into various names and forms but is here to stay. It is driving the adoption of AI, Chatbots, Computer vision, NLP, and more.
Technologies like Process Mining, BPM, Integration, etc. are also seeing a resurgence due to the renewed interest in Automation. You can now choose from a wide selection of technologies to innovate and enable modern digital enterprises.
Along with the wide variety of technologies though, we also have a lot of competition. This has resulted in vendors looking for different angles to stand out through posturing and hype. It's time we got past these petty differences and focus on solving real problems lest everyone loses out.
The new normal with COVID19 will hopefully enable that.
Last Updated on 13th July 2022